If you are looking for a new family activity for a summer holiday in the mountains, then Luge 4s Megeve summer sledging is the answer. Now you don't have to wait for winter to experience descending the mountains from a whole new perspective while having fun. Summer sledging is as much fun as winter sledging.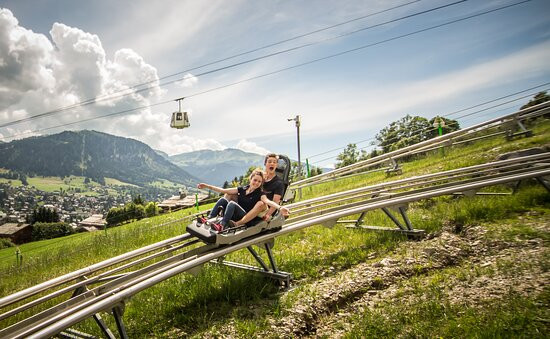 First, you will be taken upstairs with a chairlift. During the journey up you can enjoy the magnificent views of the French Alps. Arriving at the bag, grab one of the sleds, put on your mandatory helmet, and get ready to slide down! Luge 4s Megeve will provide a very thrilling downward launch field. Your adrenaline will be pumped as it goes through the turns, flowing like waves and spirals. With a track length of hundreds of meters and a speed of up to 40 km per hour, you will be immersed in the rhythm of pleasure while controlling the sled with the built-in brakes.
This will be a very impressive and safe family activity because this activity has strict safety rules. Children under 3 years old cannot access this activity. Meanwhile, children over 3 years old must be accompanied by an adult. Summer sledging is not the only activity you can do while enjoying the summer in Megeve. Other things you can do are hiking, mountain biking, paragliding, golf, visiting famous restaurants, and many more. When you decide to vacation in Megeve and are looking for accommodation, The Eco Lodge Megeve is one of the Chalet Megeve that is suitable for you.