Nestled in the heart of the French Alps, Megeve is a picturesque town that has long been recognized as a prime destination for outdoor enthusiasts, and in summer, it's a paradise for mountain bikers. With its vast network of trails, breathtaking scenery, and challenging terrain, Megeve in summer is the perfect playground for riders of all skill levels. And while there are many fantastic mountain biking trails to choose from in the region, none are quite as exhilarating as Le Tour du Jaillet. This iconic trail is a true gem of the Megeve mountain biking scene, offering riders an unforgettable experience through stunning alpine landscapes, adrenaline-pumping descents, and challenging climbs that will push even the most seasoned riders to their limits.
Le Tour du Jaillet
Le Tour du Jaillet is a world-class mountain bike trail that takes riders on an epic adventure through the stunning landscapes of Megeve. Covering a total distance of approximately 11,2 kilometers, this challenging trail offers an unforgettable experience for riders looking to push their limits and test their skills. With its steep descents, technical climbs, and jaw-dropping views of the surrounding mountains, Le Tour du Jaillet is the ultimate challenge for any serious mountain biker. The trail is well-marked and maintained, making it accessible to riders of all skill levels, although it's recommended for intermediate to advanced riders due to its demanding terrain.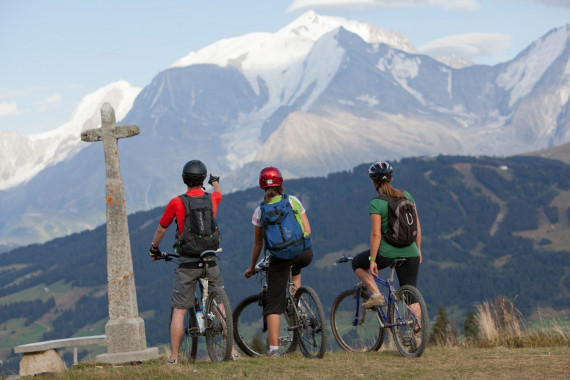 The route starts in the heart of the town center and winds its way up through lush alpine forests before reaching the summit of Jaillet Mountain. The ascent is challenging, with steep climbs and technical switchbacks that require a high level of skill and fitness. However, the reward for the effort is well worth it, as the summit offers breathtaking views of the surrounding mountains and valleys.

Once at the top, riders are treated to an exhilarating descent that takes them down through rolling hills, fast singletrack, and technical rock gardens. The descent is fast and thrilling, but riders must remain focused and alert to navigate the technical features safely.

This Megeve mountain bike trail is approximately 11,2 kilometers long, and it takes around 2-3 hours to complete, depending on the rider's skill level and fitness. The starting point is in the center of Megeve, and riders can easily access the trailhead by bike or on foot. The arrival point is the same as the starting point, which makes it convenient for riders who want to repeat the route or head back into town for a well-deserved meal or drink.
Tips for Riding Le Tour du Jaillet
Le Tour du Jaillet is a fantastic mountain bike trail in Megeve, but it's essential to approach it with caution and preparedness to ensure a safe and enjoyable experience. Here are some essential tips to help you make the most of your ride on Le Tour du Jaillet.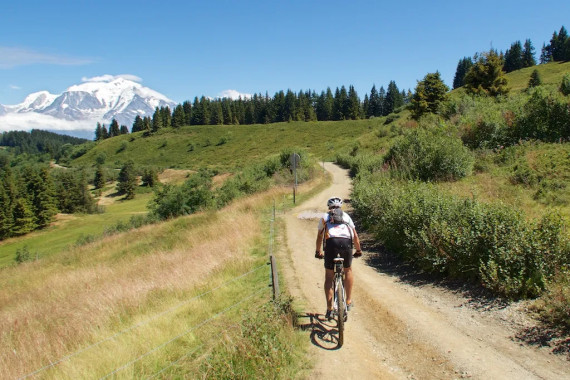 Firstly, it's crucial to bring the right gear. Helmets are mandatory for all riders, and it's also advisable to wear protective pads, gloves, and sturdy shoes. It's also important to bring plenty of water and snacks to keep yourself hydrated and fueled throughout the ride. And don't forget to pack a basic first aid kit in case of any minor injuries.

Secondly, be aware of your skill level and choose a route that matches your abilities. Le Tour du Jaillet has several different routes, each with its own level of difficulty. Be honest with yourself about your skills and fitness level, and choose a route that you can handle comfortably.

Thirdly, be aware of your surroundings and stay focused on the trail. Le Tour du Jaillet can be challenging, with steep descents and technical terrain, so it's crucial to stay alert and focused throughout the ride. Keep an eye out for other riders, hikers, or animals that may cross your path.

Lastly, it's always a good idea to ride with a partner or in a group. Not only is it more fun to ride with others, but it's also safer, especially if you encounter any unexpected obstacles or emergencies.

By following these essential tips, you can ensure a safe and enjoyable ride on Le Tour du Jaillet, and experience the stunning alpine landscapes and exhilarating terrain that Megeve has to offer.
As a mountain bike paradise, Megeve has many trails that have different characteristics and levels of difficulty. Apart from Le Tour du Jaillet, you can also try some other popular mountain bike trails such as Le Tour du Mont Joly, La Boucle du Mont d'Arbois, Les Saisies to Megeve, or Le Circuit des Aravis. Hopefully, these recommendations can help you find a trail that suits your skills and tastes.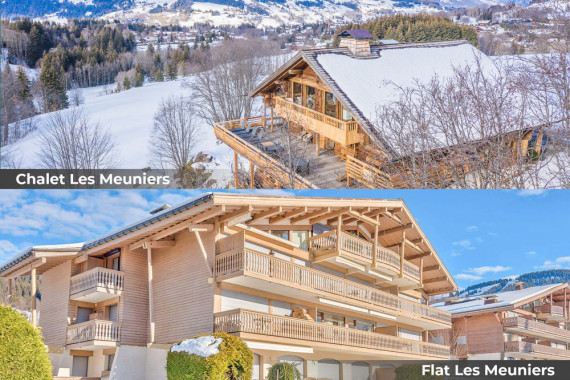 After a thrilling day of biking on the Le Tour du Jaillet trail in Megeve, there's no better way to relax and rejuvenate than by staying at Chalet Les Meuniers as one of the charming chalets in Megeve or staying at Flat Les Meuniers as one of the modern apartments in Megeve. With stunning views of the surrounding mountains and easy access to all of the village's amenities, a stay in Megeve is the perfect way to complete your mountain biking adventure. Don't miss out on the chance to experience the beauty and excitement of Le Tour du Jaillet and all that Megeve has to offer. Book your stay today and get ready for an unforgettable mountain biking experience in the heart of the French Alps.