When winter comes, Megeve will be visited by ski lovers from all over the world. As one of the winter destinations in France, Megeve does not only offer its slopes for skiing. There are many other winter activities that you can do such as snowshoe hikes, reindeer farm visits, hot air balloon rides, snowboarding, airplane flight over Mont Blanc, ice skating, ice climbing, and many more. However, there is one activity that has recently become popular in Megeve, namely dog sledding.
Dog sledding is ready to give you a new sensation to enjoy the beauty of the snow on Mont Blanc. You just sit on the board and 7-10 dogs will pull you. With the instructions of the musher behind you, the dogs will be guided and directed to a place that will amaze you. During the trip through the Megeve mountains, you will enjoy the beauty of the snowy forests, see wild animals hiding behind the trees, and the sunny highlands.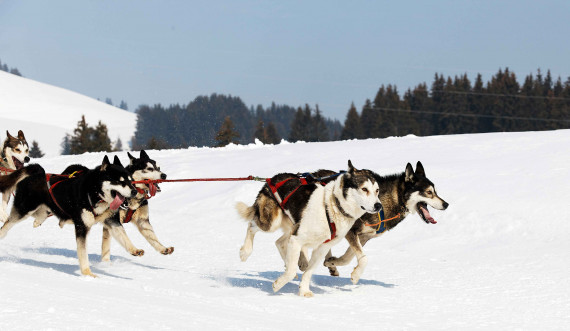 It's like a dream come true at Megeve. You don't need to go to Canada or Lapland to enjoy dog sledding. This is not just a leisurely walk, but this is an alternative for those of you who feel sliding on skis is too extreme or just looking for new experiences.

One thing you need to prepare to enjoy dog sledding is to wear completely warm clothes such as a warm jacket, gloves, hats, shoes, glasses, and a camera to capture every beautiful moment. I'm sure this will be the most memorable winter holiday. For equipment such as ropes, sleds, dogs, dog food, and others, you can trust Evolution 2 who are experienced in this business.
Schedule
Morning: 9.30 am / 10.30 am / 11.15 am / 12.00 pm
Afternoon: 1.30m / 2.15 pm / 3 pm / 3.45 pm / 4.30 pm
Price
1 or 2 people = 190E
2 people and 1 small child aged 2 – 10 years = 230E
Note
Maximum weight 180kg/sled
Do you want to find inspiration for other activities? We have prepared some other fun activities for you. You can find it in our article about Winter Holiday In Megeve France. We hope that the list we made can help make your winter holiday even more memorable. Don't forget to look for comfortable accommodation, has complete facilities and is affordable. The Eco Lodge Megeve is one of the best Chalet Megeve you can book. With a lot of rooms, it's perfect for a family vacation. Its strategic location also makes it easy for you to explore the Megeve. For more details, you can visit the website www.theecolodgemegeve.com