If you're looking for a new and exciting way to explore the stunning landscape of Megève, look no further than a fat bike tour. Fat biking is a growing trend in the world of outdoor adventure, and it's the perfect way to explore the French Alps during the winter months. Apart from using a fat bike, you can actually explore the landscape of Megeve by
snowshoeing
. But if you are not the type of person who likes to walk, then this fat bike is the right choice. Here's everything you need to know about touring the landscape of Megève on a fat bike.
What is a Fat Bike?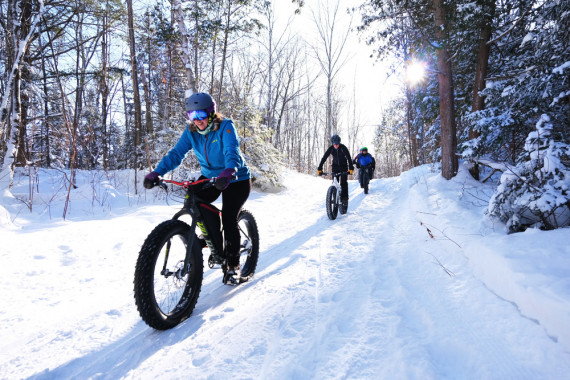 A fat bike is a specially designed bicycle that has oversized tires, usually around 4 inches wide. These tires provide more surface area and better traction, making them ideal for riding on snow, ice, and another challenging terrain. The bikes are designed with wider frames to accommodate the larger tires and are typically heavier than
mountain bikes
as usual. Fat biking has become increasingly popular in recent years, and it's a great way to enjoy the outdoors during the winter months.
Exploring Megève on a Fat Bike
Megève is a beautiful Alpine town that's surrounded by stunning scenery, making it the perfect destination for a fat bike tour. There are a variety of tours available, ranging from short and easy rides to more challenging routes for experienced riders.
One of the most popular tours is the Circuit des Chapelles, which takes you on a scenic ride through the town and surrounding countryside. You'll visit several historic chapels and churches along the way, each with its own unique architecture and history. The tour takes around 2 hours and is suitable for all levels of riders.
For a more challenging adventure, you can take the Les Saisies tour, which is a full-day ride that takes you through the snow-covered mountains of the Savoie region. This tour is suitable for experienced riders and includes some challenging climbs and descents. You'll be rewarded with stunning views of the surrounding mountains and valleys.
Other tours include the Mont d'Arbois tour, which takes you through the forest and around the Mont d'Arbois plateau, and the Jaillet tour, which takes you to the top of the Jaillet mountain for panoramic views of the surrounding area.
What to Expect on a Fat Bike Tour
When you sign up for a fat bike tour in Megève, you'll typically be provided with all the necessary equipment, including the bike, helmet, and gloves. You'll be given a brief instruction on how to operate the bike, and then you'll be off on your adventure.
Fat biking is a low-impact activity that's suitable for all levels of riders, so even if you're a beginner, you'll be able to enjoy the experience. The bikes are designed to be stable and easy to ride, even in challenging terrain.
You'll be accompanied by a knowledgeable guide who will take you on a tour of the area, pointing out interesting landmarks and sharing information about the local history and culture. You'll also have plenty of opportunities to stop and take photos or simply take in the breathtaking scenery. a few companies that offer fat bike guide services in Megeve are:
Touring the landscape of Megève on a fat bike is a unique and exciting way to experience the beauty of the French Alps. Whether you're a beginner or an experienced rider, there's a tour that's right for you. With stunning scenery, knowledgeable guides, and the thrill of fat biking, a fat bike tour in Megève is an adventure that you won't soon forget. So why not book your tour today and get ready to explore the beauty of Megève in a whole new way?