Megeve is a ski resort and small town in the French Alps that is renowned as one of Europe's popular winter holiday destinations. One of the most popular activities in Megeve during winter is snowshoeing. With a combination of spectacular scenery, varied snowshoeing routes, balmy weather, authentic alpine culture, and a wide selection of lodging options, it's no surprise that Megeve is one of the best places to snowshoe in the world. Some of the popular routes are Le Mont d'Arbois, Le Col de la Colombière, Le Mont Joly, Le Tour du Mont Blanc and many more. Especially in this article, we will review one of the most popular snowshoeing routes, namely Les Monts d'Arbois.
Les Monts d'Arbois
Les Monts d'Arbois is a popular snowshoeing trail located in the charming ski resort of Megeve, in the French Alps. This trail is perfect for those who want to explore the stunning beauty of the surrounding mountains while enjoying a peaceful winter walk.

The Les Monts d'Arbois snowshoeing trail starts from the top of the Monts d'Arbois ski lift, which is easily accessible from the center of Megeve. The trail is well marked and offers stunning views of the surrounding mountains, including the iconic Mont Blanc.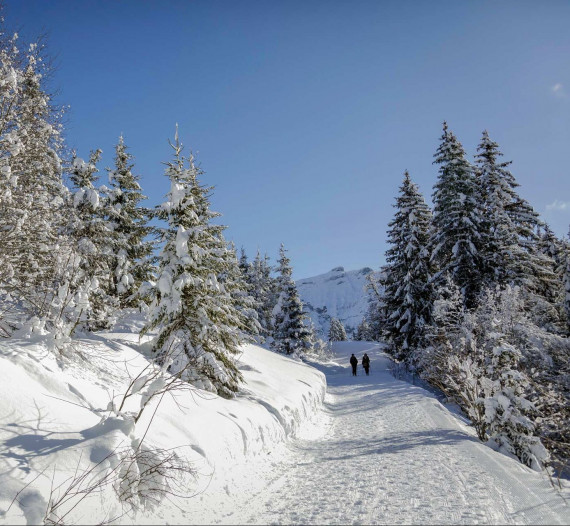 The trail begins by meandering through a beautiful pine forest, which offers shelter from the wind and sun. The forest is a great place to spot local wildlife, including deer, chamois, and marmots. As you make your way through the forest, the trail gradually ascends towards the plateau of Les Monts d'Arbois.

Once you reach the plateau, the trail opens up to wide, expansive views of the surrounding mountains. From this vantage point, you can see the Aravis mountain range, the Aiguilles de Warens, and the majestic Mont Blanc. The panoramic views are truly breathtaking, and make the trek well worth it.

The Les Monts d'Arbois snowshoeing trail is approximately 6.5 kilometers long, and takes around 2-3 hours to complete. The trail is not particularly challenging, but it does involve some uphill sections, so it's important to wear appropriate snowshoes and clothing.

It's important to note that the Les Monts d'Arbois snowshoeing trail is a popular route, and can get busy during peak holiday periods. However, the trail is well-maintained and offers plenty of space for snowshoers to enjoy the stunning scenery.

In conclusion, the Les Monts d'Arbois snowshoeing trail is a must-visit destination for those who want to explore the stunning winter landscapes of Megeve. With its well-maintained trails and breathtaking panoramic views, this snowshoeing trail is sure to be a highlight of any winter trip to the French Alps.

When you are planning a winter holiday trip to Megeve, make sure you already have a list of places you want to visit, bring warm clothes, know the weather conditions in Megeve, find plane tickets, and book a comfortable place to stay.

If you are still confused about where to stay, Flat Les Meuniers which is one of the apartments for rent in Megeve might be right for you. This apartment can accommodate 2 to 10 people depending on which room you choose. During your stay you will get free access to an indoor swimming pool and sauna. The strategic location makes it easy for you to go to the nearest ski lift and only takes 10 minutes to walk. For more complete information and update on this month's promo prices, you can visit the website HERE.